Let me share with you a great way to get a handle on all your household papers.
It all starts with a file box:
This one was found at World Market

Then some cute file folders. These were from Staples

Then label your file folders into these categories:

To Be Filed
: first folder in your box...this file is for when you don't have time to sort through the mail you put everything in this file. Once you can sort through it you will either put the papers into other files or in the trash. Or papers that need to go to a filing cabinet for long term storage. I usually check my mail when I know I will have time to sort through it.


Calendar:
When you receive party invitations, wedding invitations, school fliers with important information..jot the date on your calendar then stick the invitation into this folder for reference if needed. Just remember to go through this folder and throw away the parties that have past their date.

To Be Paid:
Just that...as you open your bills put them into the envelope and put into this file. The actual bill statement goes into the monthly file folder to be discussed.

Paid Bills:
Label 12 files
with the months of the year. I just used regular file folders...this is where your bill statements will go. I like to staple our bank statements after we have electronically paid our bills. You may toss out all your bills after
1 year
as long they are not tax related.
Coupons:
You know all those great coupons you get in the mail and want to save but just don't know where to put it until you use it...this is where they go.

Receipts:
All large purchase receipts can go into this folder or receipts for exchanges or returns. You may even want a small envelope for each store that you go to and place the receipts into the corresponding envelope for easier access.


Taxes:
All tax deductible receipts, mortgage statements, charitable donations all go in this file for easy access during dreaded tax time.
Family:
Label a file folder for each family member! This is where you can put all those important papers that need to returned back to school or certificates that you need to put into another box at a later point. These files will get a lot of use when your kids are in school for field trip information, after school activities, etc.
You may want to store this box in the kitchen for easy access or in a kitchen cupboard or wherever you find yourself opening your mail.Be sure to periodically go through the files for maintenance purposes.
I have a small box like this one for each of my children for papers I just can't part with.
Do you have a system that works for your family? I'd love to hear what you do to keep on top of all those papers. Here are a few more
tips.
ABC and 123 Organized Party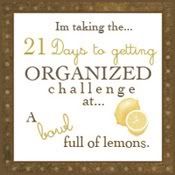 Oh....I can't wait to share with you my revised menu planner! I LOVE IT!